An All Inclusive Guide on How to Reference in an Essay!
07 Mar 2022
776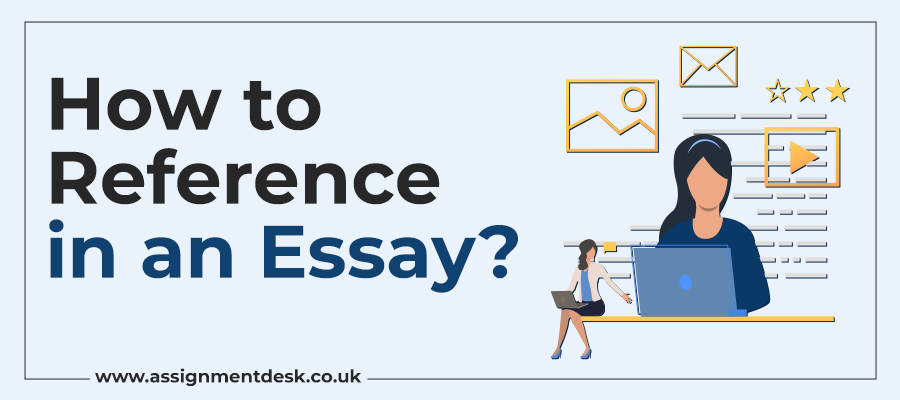 Table Of Contents
Every student wishes to be the best at what they do in their class. But the pressure of it can be very overwhelming; especially when it comes to writing an essay, because it requires them to be critical and analytical. To achieve that, students have to do a lot of reading related to their chosen topic and form an opinion, which they then pour into their essay. Writing a world-class essay is a big task as it is, but when paired with the question of how to reference in an essay, it becomes humongous. Students constantly lose marks due to their poor referencing skills. They either hesitate to ask for help or are too lazy to understand the basics of referencing.
If you also have the same concerns, you have landed on the right page. The expert writers at Assignment Desk are masters at solving this mystery. They have provided a detailed guide on referencing. Let us get into every nook and corner of the reference.
What is Referencing ?
Academic writing is based on more than just one author's thoughts and experience. Other sources' ideas and research are also used while doing it. These other sources could be used to support the author's beliefs, or the author could be debating, analyzing, or criticizing them. In simple words, referencing is acknowledging someone eles's work if you are using it as a source in your document. If one is not giving the due credit to the original source, keeping that text in their document would be considered as plagiarism; which can lead to poor grades or no grades at all(if the professor hates plagiarism) for students.
Referencing should not be confused with citation. Citations are used in the text (also called in-text citations). They only give the reader enough information regarding the original source. It is like a hint to go check out the reference list. While referencing is a detailed description at the end of the essay mentioning every citation made in the document.
Next comes the question what needs to be referenced? Simple answer is, everything that the student uses from other sources. These sources could be
exact words (written or spoken)
Summarized texts
Illustrations or pictures (graph, tables, video, multimedia, etc.)
Data
notions or concepts
theories, opinions, or research
designs, sketches, or blueprints for various performance mediums such as music, art, and so on
This list is not exhaustive; it could contain any other original source that a student may use in the essay.
Often a thought crosses a students mind, 'why do they have to do referencing in the essay?' This happens because referencing is a tough nut to crack.
Next in the blog are some points that will prove referencing as useful.
Reasons Why Referencing is Necessary in an Essay?
Students either try to avoid making a reference list or make a poor reference table that doesn't do its work. Here is why students should take referencing seriously:
It shows that you have an expert on your side.
Readers can easily access the in-text citation's original source.
The reference list proves that you completed your reading list.
It gives the reader an insight into how the thought came to be.
It properly gives due credit to the original author.
It prevents students from writing plagiarized content.
Referencing provides solid backing to all the claims made in the essay.
Helpfully, after going through these points, students will understand how important referencing is for any academic document. Now that they know it, they will have to fully commit to referencing. Here are various referencing styles that could be used in the essay.
Types of ReferencingTechniques
Referencing is a formal system; therefore it has rules and regulations that are to be followed strictly. There are different styles of referencing that have developed over time by various institutions. Students can easily get intimidated by these styles because they are very particular about all the commas and capitalization. Here are some well-known referencing styles:
1. Modern Languages Association System
The MLA system was developed by the Modern Language Association. Currently, it is in its 8th edition. MLA is quite popular with literature students and in language studies. MLA uses parenthetical citations in the format of "author and page number."
2. American Psychological Association System
The APA system is also a parenthetical type of citation but uses an "author-date" format. It was developed by the American Psychological Association and was originally built to be used in the fields of psychology and social sciences.
3. The Harvard Style
It is also known as the "author-date" style. It is commonly used in the economics field. It is not a system, therefore there are no specific style guides for this referencing. That is why Harvard style has a few different variants as published by different organizations.
4. Modern Humanities Research Association System
The MHRA is not a parenthetical type of citation because it does not use bracketed references. Instead, it uses superscript numbers that are like a sequence of notes. These notes can appear at the foot of the page or in a section at the end.
These aren't the only styles of referencing that there are. Some other referencing styles are:
Chicago Style
OSCOLA
Vancouver reference
AMS (American Meteorological Society)
Any of these could be used by a student depending upon the requirements of their essay and institution.
But the major question remains: how many references should one make in an entire document? Is there something like too much referencing? To get an answer to all these questions, look into the next section of this blog.
How Often Should One Reference?
This is a genuine question that every student should have very clearly explained to them.Referencing is difficult not only because of the numerous regulations and principles that must be followed, but also because the number of references you make in any document varies depending on the size of the document. Referencing should not be treated as a place to show off all the books you have read; never do that! Use references that support or are evidence of your original thoughts.
Here is an easy way to understand the maths behind the total number of references in an essay. For the ease of understanding, we will divide this part of the blog into three sections on the basis of the number of words written in an essay.
How Many References for a 2000 Word Essay?
For writing any essay, you divide it into an introduction, body, and conclusion. Therefore, the references are also divided into these three parts of the essay. The introduction cannot have too many of your original points, so the number of references should be limited to 1 or 2, depending completely on the word count of your introduction.
Next is the main body of the essay. For a 2000-word essay, it will utilize around 1500 words., giving you the scope of making 4 to 5 crucial points. Now, for each point, one can use 2 to 3 references, which makes the reference count for this section somewhere between 8 and 15.
For the conclusion part, which is approximately 15% of the essay but a crucial one, you can use 1 to 3 references to bring more weight to your theories which makes the tally 10 to 20 references out of 2000 words.
How Many References for a 2500 Word Essay?
Similarly, for a 2500 word essay, you can divide the references into three parts. For the introduction part, stick to 1–2 references only to explain the topic clearly. For the main body, there is more freedom to use references because the word limit is extended by 500 words. You can use 12 to 18 references to make your points legit. For the conclusion part, stick to 3 to 4 references. In total, for a 3000 word essay, use 15 to 25 references.
How Many References for a 3000 Word Essay?
For a 3000 word essay, the reference count will range between 20 and 30 which should be cautiously divided into the three parts of the essay.
Unable to Crack Referencing? Take Help from Expert Writers!
Always remember that all the references you use should be done to aid the essay and not to complete the reference list. Make the most out of your reading by scoring high in the essays you write through the precision referencing tricks mentioned in this blog. Even after going through this blog, if you face an issue with how to reference in an essay, the essay help experts available at Assignment Desk will resolve all your queries.
FREE Tools
To Make Your Work Original
FREE Features
Topic Creation

Outline

Unlimited Revisions

Editing/Proofreading

Formatting

Bibliography
Get all these features for
USD 84.3FREE