Bibliography in an Essay: What You Need to Know
25 May 2023
336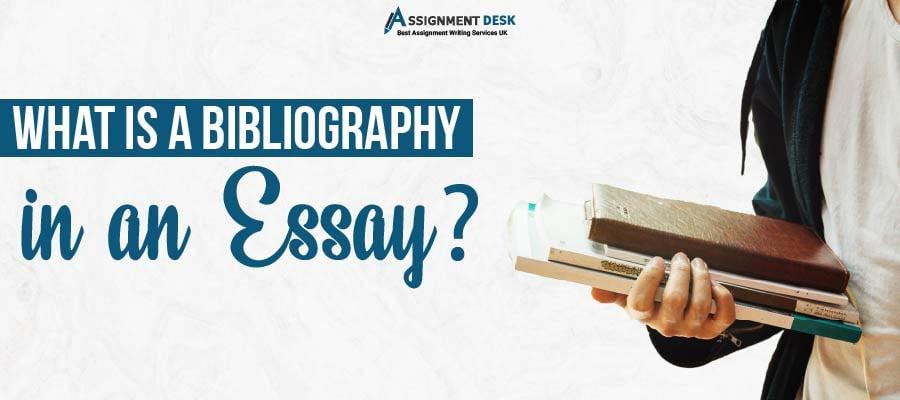 Do you want to know what is a bibliography in an essay? Also, if you want to understand how to cite sources well using proper citation styles, this blog will help you learn about them in detail. While writing an essay, most students forget to cite sources correctly, which increases the chance of plagiarism in their content. To avoid such situations, experts say it is necessary to cite sources using correct citation styles such as MLA, APA, etc. This will keep your content authentic and plagiarism-free. Moreover, mention all of them after citing sources on your essay bibliography page. But if you don't know what is a bibliography in an essay, then read the upcoming section.
What Is a Bibliography in an Essay?
An essay bibliography, or reference list, is created to list down all the sources from which you took the information or cited it while writing an essay. The main purpose of creating a bibliography essay page is to give credit to the original writers for providing you and the readers with information about the topic. Generally, this page is created at the end of the essay. It is necessary to properly cite the sources to keep your content plagiarism-free, and it will increase the essay's credibility. But one must create this page by following the specific formatting guidelines from the UK universities. So, in the next section, you will learn how to write a essay bibliography step by step.
How to Write a Bibliography for an Essay?
You don't know how to write bibliography essay, so here are some simple steps that you can follow to achieve success. These steps will help you create an essay's bibliography quickly.
Firstly, collect citation information.
Now, list all the sources in alphabetical order and the author's last name.
If the author's name is unavailable, then you can write the source name or title of the page.
List down all the sources in a consistent manner.
Write down the sources line by line; don't merge the two.
Finally, place the essay bibliography page at the end.
This is a clear and quick ways to create a bibliography in an essay in one go. However, you can use our essay writing services if you cannot do so. Furthermore, if you want to level up your learning and know what you must include in your bibliography, then read ahead.
What Should You Write in a Bibliography for an Essay?
When you create a bibliography in an essay, always remember to list all the cited sources in detail. In addition, it should include the following:
Name of the author or authors
Title of the source
Publisher's name
Date of Publication
Page Number of the Source
Remember these points while writing a bibliography in an essay to avoid mistakes. Now, let's move to the next section to know about citation styles you can use in your bibliography.
Need Help With Essay Writing?
Get Custom Essay Written by a Professional Writer on any for TOPIC.
Get Help
What Citation Styles Can You Use in an Essay Bibliography?
There are numerous referencing styles that you can use to write a bibliography. But before doing so, it is vital to check the exact format of citing sources. No matter your citation style, it must be in the correct format. This shows you are serious and paying attention while working on your essays. A slight mistake can have a huge impact on your work. So, here is the list of citation styles you can use with the set format.
1. APA Citation Style
Author's Name
Book Title
Publisher's name
Date of publication
Page number
2. MLA Citation Style
Author's last name
Author's first name
Title of the book
City of publication
Publisher
Publication date
3. Harvard Citation Style
Author(s) surname
Author(s) initial
Title of the article
Title of the journal
Publication information (volume number, issue number)
Publishing day and month
Page number
4. Chicago Citation Style
Author(s) first name, last name
Book title
Place of publication and publication year
Page numbers
5. Oxford Citation Style
Author name
Book title
Journal title
Conference name
Place of publication
Date of publication
Page number(s), if any
URL
You can use these citation styles to write a bibliography in an essay. But, if you are facing an issue you can take reference from bibliography essay examples. So, maybe now you know how many citation styles you can use while creating a bibliography page and the difference between them. Let's proceed further and learn about the different types of bibliographies.
Need Academic Writing Help?
Seek the Best Academic Writing Help in the UK
Learn More
What Are the Different Types of Bibliographies?
There are three types of bibliographies that you can use in an essay, which are listed below:
1. Enumerative Bibliography
In an enumerative bibliography, the sources are listed in a specific order. This type of bibliography is often used by students while writing essays.
Our experts say to write a well-organised enumerative bibliography, first mention the author, subject, date, or another criterion. Moreover, the other thing you must remember is language or time.
2. Analytical Bibliography
An adequate analytical bibliography consists of information about printers and booksellers, paper and binding descriptions, or a discussion of the problems that occur when the book turns from a manuscript to a published book.
3. Annotated Bibliography
To write an annotated bibliography in a proper manner, you must arrange the sources in alphabetical order. Moreover, you must remember to add annotations about the source while writing it. This is done to provide information related to the content of each reference, so one can evaluate the source's usefulness later.
These are the different types of essay bibliography. If you want to know about writing it, you can search for essay bibliography example online or take help from our experts. They know how to write all types of bibliographies effectively, so they can assist you quickly. Therefore, to know why you should buy essay online from us, the following are in the next section.
Also Read: Student's Handbook on How to Write a Bibliography
Why Should You Take Our Bibliography Service Online?
Still confused about what is a bibliography in an essay. Not to worry; hire our experts and ease your work. We have a team of PhD-qualified experts who can help you to understand how to write a bibliography for an essay. No matter your challenges while writing it, we can help you from start to finish. You only require to pay for essay, and we will handle all your essay-writing worries. Therefore, get assistance from our experts in writing essays and creating a bibliography. We will resolve all your doubts and fulfil all your academic writing needs.
So, hire our professional essay writers and see what you will get for free with our service:
Topic Creation
Essay Outline Generation
Bibliography
Unlimited Free Revisions
Editing/Proofreading
Essays Formatting
Round-the-Clock Assistance
There are a lot more on the list. So, what is stopping you now? Don't search for more on how to write a bibliography for an essay, contact us right now by clicking on the "order now" button on the page, and our customer support team will guide you and connect you with our experts.
Avail Essay Help
FREE Tools
To Make Your Work Original
FREE Features
Topic Creation

Outline

Unlimited Revisions

Editing/Proofreading

Formatting

Bibliography
Get all these features for
USD 84.3FREE