Top Writing Tips and Examples for Submitting Exemplary Photo Essay!
25 Mar 2023
495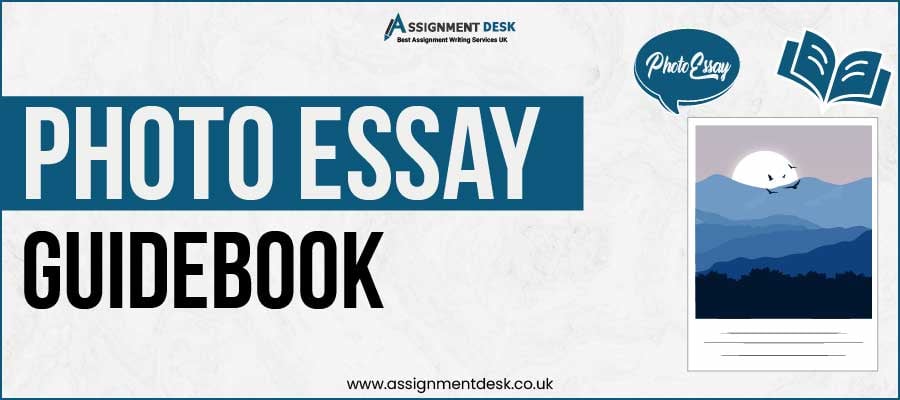 Before 1948, the era of photography was very different. The display of images in magazines was not a truthful observation of life. The photographers do not know the goal and motive hidden behind them before exhibiting the artwork to the audience. In general, the notion and perspective were unknown. The results of William Eugene Smith's work for Life magazine changed people's perceptions ofaphoto essay. Now that you know how it came into existence, does it arouse your curiosity to learn more about it?
If yes, read the upcoming section to delve deep into the topic and submit an exemplary document. Due to inadequate information, it becomes challenging to write aphoto essayeffectively, but with this blog, all your doubts get resolved.
What Is a Photo Essay? An Overview!
A photo essay is not like a normal essay, where you explain your audience's points via written content. It aims at depicting a story visually. With the aid of a picture or a series of images, you have to explain the situation. Every pictorial representation contains a theme that a user has to understand. Sometimes aphoto essayalso consists of a small text that provides a hint to the user about your concepts. There are two types of them: thematic and narrative essays. You must ensure that you either create an emotion or inform your audience if you are working on any of them. The central goal of a photo essay is not merely to represent some random, cool pictures. Instead, it is a collection of well-thought-out and organized pictures to capture the viewer's attention. The idea and presentation should be in a manner that imprints or stays with the viewer for a long time. Are you well-versed in the basic definition and history?
Want to learnhow to write a photo essay?
Here is the topic you have been waiting for!
How to Write a Photo Essay? Know the Process!
Writing a photo essay can be challenging because you have to explain everything to your audience. But this is where your power lies. As you are not great with words, you can be strong with what you like. If photography is your passion, letting people understand the theme and hidden emotions can be your hobby. Essay writing skill isnot something that everyone can grasp and understand. Therefore, to make the work easy, here are some steps you can consider before submitting the final essay to your professor.
Photo Essay Topic
Like any other academic task, choosing an essay topic is the first step. There are various events to capture the moments. It can be shooting the happiest moments of the wedding, commemorating the victory of hard work, people enjoying a festival together, or documenting birthday celebrations. So there are infinite topics, but the struggle is how to choose the perfect one. Following is a list of some practises you can adopt to pick the bestphoto essaytopic.
Topic that Interests You
If you choose a topic that interests you, there are chances of adding five stars to it. Also, when you work on it, instead of getting frustrated or irritated, you will enjoy doing it, because the best result or outcome comes from the heart. It can be anything from environmental issues to social issues about which you are curious. Identify what motivates you to share with the world.
Personal Experience
The best results come when you have undergone or experienced any situation. Any incidence or event that transformed your life or that you are willing to share can be the ideal choice. Also, take references from other sources to present the best.How to reference a photo in an essayfrom your personal experience can be a problematic task. It is therefore recommended to visualise accurately, so that you do not face any issues in capturing.
Problem and Solution
It is a human tendency to find a solution to a problem which exists in the world. As a photojournalist, your pictures can raise an issue. You can present the root cause of the dilemma. On the other hand, answering societal obstacles can be one of the best topics. If finding an answer to unresolved queries is a task, seeking a custom writing service is the best solution.
Conduct Research
Research is the foundation of a good-quality photo essay. For example, if you have to narrate a story about a place or a location, It is ideal to study and examine it first. Go and talk to the residents. Find out the planned events to learn about the area's unique characteristics. It can involve library research or an interview with the concerned personnel. If research is a problematic task, seeking an essay writing service can be the best solution.
Storyboard Your Idea
After exceptional and adequate research, create a storyboard. With its aid, you can sketch the pictures you desire to include in your paper. On the other hand, if you want to draw something on-site, it is better to make a shot list yourself. It becomes useful, and you capture all the essential elements. For improvement and better results, think of each shot as a sentence. Aim to make every line specific and to the point. If you want to make every paragraph of your essay concise and particular, using the essay typer tool is the best choice.
Capture Images
Now that you have a storyboard and shot list of your ideas, it is time to capture those moments. Be liberal and experiment with colours, perspectives, and compositions. You have to shoot hundreds or thousands of pictures to express your story. But sometimes unplanned and spontaneous pictures speak louder than planned ones. In such a scenario, consider the best shots to make yourphoto essayfascinating and worthy. Make a wise decision by picking shots that best describe your story.
Edit and Organize
Among multiple photos, it is difficult to choose the ones that best describe your event or situation. You have to be choosy and think wisely about which pictures can grab the viewer's attention the most. After selecting the best shots, organize them one by one for hierarchy and flow. The misplacement of one photo over the other can change the morale of the story. Therefore, ensure that you stay organized. Raw images can sometimes be part of your paper. But if such images require editing, use software such as Photoshop or Adobe Lightroom for colour corrections, cropping, or other functions. Such applications ensure that there is consistency in your work and make yourphoto essaylook attention-grabbing. Now that you are well-versed in the step-by-step approach, read the following section for note-worthy tips.
Need Help With Essay Writing?
Get Custom Essay Written by a Professional Writer on any for TOPIC.
Get Help
Interesting Tips & Tricks for Writing a Photo Essay
Now that you know the basic framework, it is time to know how to craft it for better delivery.
Variety
A photo essay considers angles and views. Similar to what you see in movies, there are multiple shots. The wide ones set the scene. The medium shots describe the story, and the close-ups reveal the character and emotions of a personality. Therefore, to present your best work to your professor, it is a good choice to add unique angles with varieties to break the monotony. Also, black-and-white photos look aesthetic and exclusive.
Visual Consistency
Visual consistency plays a crucial role in aphoto essay.The idea is to set a whole mood and convey the meaning to the viewer with a bunch of pictures. But what does visual consistency mean?
It says that every picture will have recurring people, moods, styles, and things. But it must not look like every image is conveying a different message. It should depict or tell the whole story. The images must interact with each other and should not be out of the blue.
Captions
A picture is incomplete without text or a caption. A picture is sometimes worth a thousand words. In such a case, adding a few lines can be your choice if the idea behind them is easily detectable in a picture. On the other hand, if it seems like your photo series cannot function without a one-liner.In such a case, adding some words can be the best choice. Communicating your thoughts in a few lines is never an easy task;seeking an academic writing service online can be the best choice.
A Keen Eye
Since its inception, the photo series has boomed or captured the audience's attention. It inspired video documentaries too. Therefore, to analyze and examine, you should be careful with the pictures you will include in your paper. Observe every minor detail like a photographer. That is how you will understand the perspective of the audience. Now that you are aware of the strategies and process, it is time to hop on somephoto essay examples.It will tell you how to capture moments for your essay.
Photo Essay Example- List of Topics to Consider
Here are somephoto essay examples you can consider for your essay:
Protests
Protest is a situation where people oppose the third party either for their rights or for their narratives. It can be a good topic where you can capture multiple fights in a single location. It depicts the struggle behind the event.
Technology
Technology is growing at a fast pace and can be one of the most intriguing photo essay examples.You can take several pictures from the past and show how, with advancement, there has been a drastic change. Also, showcase how improvisation and development have led to the creation of modern society. A place where everything seems to be fast and easy, as compared to the contemporary world.
Workplace
Workplaces are the best location for yourphoto essay.Showcasing a worker's life in an office can be a good topic. The fear, passion, and people's joy while doing their job can be interesting topics. Capture moments sipping coffee, gossiping with friends, and intense moments of meeting and serious discussion.
Public Transportation
Public transportation is an option for those who do not have vehicles. Buses, trains, and taxis are alternatives for them. With those pictures, you can describe the moment of strugglein a photo essay. Also, it is a place where people communicate with each other and unknowingly make new friends. Capturing moments of sheer happiness and joy can also be an ideal choice.
Pregnancy
Pregnancy is a stage where a mother faces a rush of emotions. On one hand, she is happy for her child. On the other hand, there is a feeling of responsibility and fear. It is a journey of highs and lows and can be one of the best topics for your photo essay.Now that you know what is a photo essay,explore how experts can help you in your journey.
Learn to Create Perfect Taglines for Your Photo Essay
A photo essayis an impressive thing to work on. It is a combination of pictures and one-liners sometimes. What to do when you are not good at writing a single-line caption?
Possibly create it independently. What if you do not like it or see it to be attention-worthy?
Do not take the pressure. Seek help from Assignment Desk professionals for the same.
Creating a perfect line for yourphoto essaycan be challenging because it is via those eight to nine words,you will make your audience understand your idea and notions. A single mistake can convey the wrong idea and deduct your grades.
But do not take a risk and seek help from the best in the town. The experts guide you on how to frame that one line. The cherry on the cake is that experts are available 24*7, so you can reach out to them at any hour of the clock and get your work done.
Avail Essay Help
FREE Tools
To Make Your Work Original
FREE Features
Topic Creation

Outline

Unlimited Revisions

Editing/Proofreading

Formatting

Bibliography
Get all these features for
USD 84.3FREE