How to Structure a Peel Essay? Tricks to Master This Writing Strategy!
25 Jun 2020
2653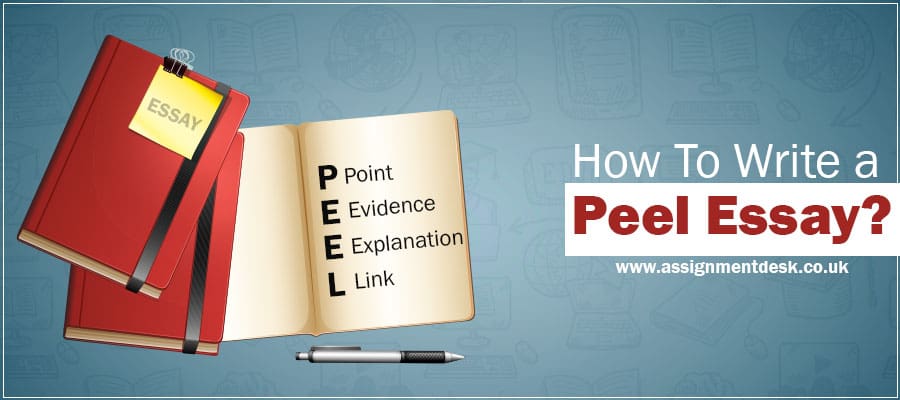 Table of Contents
Who doesn't want to score a high grade in their essays and impress their professors? Everyone does, right? Essay writing is one of the most common writing tasks for a student that he has to work on from a young age until he completes his study. Still, students struggle to add perfection to their work. If you also want to add brilliance and professionalism to your work, turn to peel essay writing. This is a fool-proof writing strategy that can get you the grades of your dreams. Read this blog to know more about it.
What Is a Writing Strategy?
Writing strategy is a technique that can help you enhance the value of your content in any writing. There are various writing strategies using which you can easily make your content the best among your peers. Some writing strategies are:
Tape
Topic
Audience
Purpose
Example
Pow
Pick ideas
Organize notes
Write more
Tree
Topic
Reasons
Ending
Examine
Race
Restate
Answer
Cite
Explain
Stop
Suspend judgment
Take one side
Organize ideas
Plan more as you write
These are some of the many writing strategies that one can implement in his essay writing task. One of the most popular strategies is PEEL; let us look into it in detail in the below section.
What Is Peel Writing?
PEEL is one of the most commonly used writing strategies that are simple to understand and implement as well. The acronym of the word PEEL stands for:
P – Point
This is used to represent that you should focus on one point in one paragraph. This includes choosing a particular idea or opinion for a paragraph and explaining it solely in that. This helps the reader understand what that whole content is about.
E – Evidence
When you present a fact or stats in your content, make sure to include supporting evidence to that. This way, you can improve the authenticity of your work and also build a strong impression in front of your reader.
E – Explanation
Now, explain the point you've chosen with proper evidence in your content so that the reader can relate to what you are discussing with proper facts to check and gain a better understanding of the same.
L – Link
Though each paragraph is dedicated to a particular point, make sure to build a connection between them. This way, you can ensure that the transition between these paragraphs seems meaningful, and the reader can backtrack to the main idea in case of any doubt at any point or paragraph.
How to Structure a Peel Paragraph?
PEEL writing strategy helps us in getting a better insight into our thought process. So, this surely brings the best results during the essay writing process. If you're wondering how to structure an essay using this strategy, here is how to do it:
Focus on the topic of the essay.
Choose a few main points for the essay.
Distribute these points into different paragraphs.
Now collect evidence for each chosen point.
Explain each point with the help of the evidence.
Work on one paragraph at a time to avoid confusion.
Once the whole work is complete, read in one piece.
Add transitional elements to link all paragraphs with each other.
Revise and edit to ensure the content is in one flow throughout the essay.
Proofread to ensure your essay is error-free and good for submission.
What Are Some Points of a Peel Essay?
Before you choose a PEEL essay, you need to know more about it so that you can draft a perfect document.
PEEL writing strategy is mainly used for creative and academic writing.
It helps in creating better engagement of the writer with the reader.
This keeps the readers hooked to the content until they reach the end.
It addresses problems, issues, and includes their possible solutions.
This includes strong and valuable content with proper evidence.
These are some points of the Peel writing strategy that make it most simple and efficient. Also, the number of paragraphs in a peel essay is dependent on the number of arguments that are discussed in this essay.
Who Can Help in Writing a Peel Essay?
Writing a peel essay is not easy. So, no wonder many students look for essay writing service from subject experts. If you are also one of them, then you can count on us. The Assignment Desk has the best professionals who can help you draft an impeccable peel essay without any stress or hassle. If you are still not sure about our expertise or have any queries regarding the quality of our work, you can take an insight into:
Our blog section is where we share content on various topics of different subjects and tips and tricks that can help you complete any academic writing in just a matter of time.
Our dedicated sample section to find some examples of our writers' You can get an idea of topic selection, structure, and format from them.
Our answer section is where you can find expert solutions to the most commonly asked questions from any subject or topic. You can refer to this section to gain better subject knowledge.
If even after going through these sections, you still are struggling with your essay writing task, then you should immediately avail our services at the most affordable prices. Contact us now!
You might as well be interested in Understanding the Anatomy of Appendix Writing.
FREE Tools
To Make Your Work Original
FREE Features
Topic Creation

Outline

Unlimited Revisions

Editing/Proofreading

Formatting

Bibliography
Get all these features for
USD 84.3FREE